1953
Colin James Hay is born on June 29th inSaltcoats, Scotland. His parents' names are James and Isabela. He's the middle brother of Carol and Derek.
1967
At 14, Colin Hay moves with his family to Melbourne, Australia.
1978
Colin Hay meets Ron Strykert, and they form an acoustic duo. They started composing songs for what was going to became Men at Work.
1979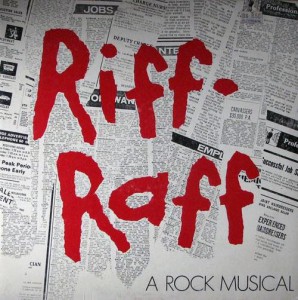 Alongside Jerry Speiser on drums and Greg Sneddon on Keyboards, Colin Hay and Ron Strykert featured the recording of the theatrical musical "Riff Raff" soundtrack. Colin Hay is the lead singer for the song "The Ways of the Broken Hearted".
1980
Greg Sneddon was replaced by Greg Ham, who plays flute, harmonica, saxophone and keyboards. John Rees also joined the band as the bass player. Men at Work released an independent 7"single with "Keypunch Operator" as the AA1-side, and an early version of "Down Under" as the AA2-side.
1981
Men at Work signed with CBS Records producer Peter McIan, and they release their debut album "Business as Usual", with the hit singles "Who Can It Be Now?", "Down Under" and "Be Good Johnny".
 1982
"Business As Usual" is released in America, and it stays sixteen consecutive weeks at the top of Billboard, alongside the "Who Can It Be Now?" single. Men at Work tours the America as the opening act for Fleetwood Mac.
 1983
Men at Work releases its second album, "Cargo", produced by Peter McIan. The singles "Overkill" and "It's A Mistake" were the most effective on the charts.
They started an worldwide tour, with massive number of dates in America, playing at the US' Festival for 300.000 people. The concert was also broadcasted live in United States and via satellite to Russia.
Men at Work received the Best New Artist Grammy.
1984
"Live In San Francisco… Or Was It Berkeley?" was released in VHS and Beta. The tape had a show filmed in 1983 at the Greek Theatre in Berkeley, CA.
Members Jerry Speiser and John Rees quit the band.
1985
Colin Hay, Greg Ham and Ron Strykert worked with studio musicians on the production of "Two Hearts", Men at Work's third album. Strykert left the band during the recordings, while Ham left during the tour. The album went gold in America, but didn't produce a hit single. "Everything I Need" made some success in Brazil, where the band was expected for the first edition of Rock in Rio festival. The show never happened because Men at Work disbanded before. They sold more than 12 million records by the time.
Colin Hay plays the role of a publican at the movie "Wills & Burke", with Nicole Kidman.
1987
Colin Hay releases his first solo album, "Looking For Jack", still for Columbia Records (former CBS). The single "Hold Me" reached the Top 40 in America.
Colin Hay plays a small role as a policeman at the movie "Georgia" with Judy Davis.
1990
Colin Hay released his second solo album, "Wayfaring Sons", through MCA Records. The band was formed with Gerry Hale, Paul Gadsby and Robert Dillon. The single "Into My Life" was a huge hit in Brazil.
1991
Colin Hay performs with his band at the Rock in Rio II, for an audience of 150.000 people. He played at the same night of Prince, Joe Cocker and Jimmy Cliff.
1992
Colin Hay releases his first independent solo album, the acoustic "Peaks & Valleys". The album has the featuring of Colin Hay's sister, Carol, doing some vocals.
Men at Work is introduced to the ARIA Rock 'n Hall of Fame.
1994
Colin Hay creates his own music label, "Lazy Eye Records", and releases his fourth solo album "Topanga". The album has the participation of musicians from his whole career, like Gerry Hale and Paul Dillon from the early 90's Colin Hay Band, his sister Carol Hay, the drummer Chad Fischer from Lazlo Bane, and even Greg Ham of Men at Work.
1996
Colin Hay and Greg Ham reunite with other musicians and tour the South America as Men at work.
Colin Hay plays the role an accordion player named Zac at the movie "Cosi" with Toni Colette.
1997
Men at Work's live album "Brazil '96" is released inSouth America. The album was recorded live during a show in São Paulo, Brazil.
Colin Hay features the video of "Overkill", cover recorded by Lazlo Bane. The video reached MTV2's Top Tep of the Year.
Colin Hay plays the role of an wheel-chaired accordion player named Jonah at the movie "Heaven's Burning" with Russel Crowe.
1998
The worldwide edition of "Brazil'96"is released through Legacy Recordings, a Sony label. The album title was changed to "Brazil", and had the addiction of an studio version of "The Longest Night". The song is composed by Greg Ham and used to be played live mostly during the "Cargo" tour.
Colin Hay releases his fifth solo album, "Transcedental Highway", and reissues "Peaks & Valleys" through Lazy Eye Records.
1999
Colin Hay composed and recorded the song "Misty Bay" with his girlfriend, the Peruvian singer, composer and dancer Cecilia Noël. She is the leader of Cecilia Noël & The Wild Clams, a "SalSoul" 18-piece band based in Los Angeles. The song was released through her MP3.com page.
Colin Hay plays the role of inspector Barry in the movie "The Craíc" with Irish comedian Jimeoin.
2000
Colin Hay releases his sixth album, the acoustic acclaimed "Going Somewhere", as a follow-up to 1992's "Peaks & Valleys".
Men at Work performs at the closing cerimony of Sydney's Olympics. They played "Down Under" for an estimated audience of 2 billion people over the globe.
2002
Colin Hay releases his seventh solo album, "Company of Strangers". Also releases in VHS the show "Live At The Continental", recorded in 2000.
Colin Hay and Greg Ham stop touring as Men at Work.
Colin Hay marries Cecilia Noël, she starts to participate of his shows.
Colin Hay plays the singing voice for the characters of Disney's "The Country Bears" movie.
2003
Men at Work's "Business As Usual" and "Cargo" are remastered and released in CD by Legacy Recordings, with the addiction of several bonuses tracks.
Colin Hay signs with American independent label "Compass Records", and releases his eighth album, "Man @ Work", bringing some new versions to Men at Work hits, alongside main solo craft and new songs.
Colin Hay tours North America with former Beatles Ringo Starr, as a member of his All Starr Band. The other members of the band were Paul Carrack, John Waite, Sheila E, Mark Rivera and, of course, Ringo.
Colin Hay appears playing and acoustic version of "Overkill" at the second season's premiere of TV show "Scrubs", the episode was called "My Overkill". The actor Zach Braff and show's creator Bill Lawrence are fans of Colin's music and decided to insert his songs on several episodes.
A new version of "Misty Bay", duet of Hay and his wife, was released at her album "Bongoland".
2004
Colin Hay's "I Just Don't Think I'll Ever Get Over You" song, originally released in 1998's "Transcendental Highway", was introduced at the Zach Braff's "GardenState" Grammy-awarded soundtrack.
Colin Hay launches his one-man show named "Man at Work", a mixture of songs and stories. He came to perform at the Aspen Comedy Festival.
The CD and DVD of Ringo Starr's All Starr Band "Tour 2003"are released.
Paul McCartney includes Colin Hay's "Going Somewhere" amongst his favorite songs at a compilation for UK magazine "Uncut".
2005
Compass Records reissues "Going Somewhere" with the addiction of radio edits of "Waiting For My Real Life To Begin" and "I Just Don't Think I'll Ever Get Over You".
Colin Hay and Cecilia Noël participate of a Ringo Starr show which was transmitted for television at the Soundstage series.
2006
Colin Hay plays the voice of character Fergus Flamingo at the Disney's animation "The Wild".
2007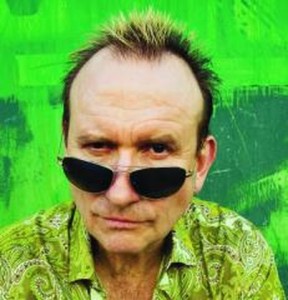 Colin Hay releases his ninth album, "Are You Lookin' At Me?".
2008
Colin Hay features Ringo Starr's All Starr Band for the second time, alongside Billy Squier, Hamish Stuart, Gary Wright, Edgar Winter and Greg Bissonette.
Colin Hay plays the role of Nick at the horror movie "The Uninvited" with Marguerite Moreau.
Colin Hay makes his second appearance at the Scrubs, this time playing "Down Under".
The Australian edition of Men at Work's compilation "The Essential" brings a bonus DVD including 10 music videos from the band, available commercially for the first time.
2009
Colin Hay releases his tenth album, "American Sunshine".
Ringo Starr's "Soundstage" is released in DVD and Blu-Ray with the featuring of Colin Hay and Cecilia Noël.
Compass Records reissues Colin Hay's remaining independent catalogue ("Peaks & Valleys", "Topanga", "Transcendental Highway" and "Company Of Strangers").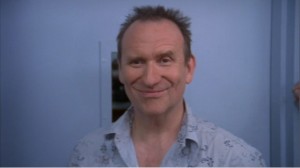 Colin Hay makes his third – and last – appearance on Scrubs, at the series' final episode.
2010
"Live At The Greek Theatre 2008", with Ringo Starr's All Starr Band featuring Colin Hay is released in CD and DVD.
Colin Hay releases his first DVD, "Live At The Corner", filmed in 2007 at The Corner hotel in Melbourne, Australia.
Colin Hay featured the show that celebrated the 70th anniversary of Ringo Starr at the Radio City Music Hall in New York singing "With A Little Help From My Friends". Amongst the other stars were Joe Walsh, Jeff Lynne, Nils Lofgren, Steve Van Zandt and Yoko Ono. After the number Paul McCartney surprisingly came to the stage and performed The Beatles' "Birthday" with Ringo on the drums.
2011
Colin Hay's eleventh album comes out, "Gathering Mercury".